Blog // Oakville Real Estate and GTA Market Watch
The average selling price of a resale home in the GTA for the month of February came in at $454,423. This represented an increase of over five per cent versus the average of $431,509 reported in February 2010. During the same time, the 'Oakville Real Estate' market saw the average price increase by 12% verses the same time last year. 'Oakville Real Estate agents' reported the sales of 239 'Oakville Homes' in February, with an average price of $645 904.
Resale prices are benefitting from a tightness in the market, as the number of new listings actually fell by 9% in February 2011 (11,538 versus 12,726 in February 2010). Given this somewhat dampened supply, there has been more than enough competition between home buyers to promote continued robust price growth. This trend is likely to continue at least for the next few months.
A total of 6,266 homes were sold during the month of February through the Toronto MLS® system. This result was 14 per cent lower than the record sales reported in February 2010. While not representing a record, February 2011 sales were 50 per cent higher than the number reported in February 2009 during the recession and slightly higher than the average February sales over the previous ten years. Continued improvement in the GTA economy, including growth in jobs and incomes and a declining unemployment rate has kept the demand for home ownership strong.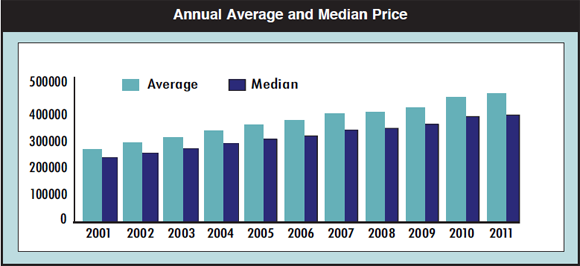 03/03/2011 –This article posted by Ryan Crane, an Oakville Real Estate agent that works in the GTA and specializes in the Mississauga, Milton, Burlington, and Oakville Real Estate markets. You can find him at www.OakvilleRealEstate4sale.ca.
This is an Oakville Real Estate Agents website that provides all of the Oakville MLS Listings for all Homes for Sale in Oakville including all the Oakville Sold Prices.
Tags:
Oakville Homes
,
Oakville Real Estate
,
Oakville Homes for Sale
,
Oakville Real Estate for Sale
,
Oakville Real Estate Agent
Write a comment
Required fields are marked with *.
Article Categories
Find articles by category fast!
Archives
Real Access to the MLS
Get true access to the MLS system!
Quick Links
Find our most popular pages fast!
Oakville Real Estate
Quote of the Day!

'We should behave to our friends as we would have our friends behave to us.' "

Aristotle
Greek philosopher and student of Plato (384 - 322 BC)