Blog // Oakville Real Estate – Centennial Square in for a Major Makeover?

Downtown Oakville's Centennial Square could be in for a major makeover.
A group of about 10 residents have been working together over several years to try to get some dialogue going in Oakville about possible upgrades to the location, which currently houses the Oakville Centre for Performing Arts, Central Library branch, an art gallery and other public spaces.
Now, Mayor Rob Burton is on board and wants the residents of the Oakville Real Estate area to decide if such a makeover should take place.
"We've got to make sure (downtown) stays as good as it gets in North America," said one of the group members, Don Pangman. "It's spectacular downtown. We've got heritage. It's got a lovely setting and we've got to make sure it stays vibrant all the time."
The revitalization would centre on building a new arts theatre, to co-exist with the current 450-seat theatre that the Oakville Real Estate region currently offers.
"The new hall would probably accommodate somewhere between 750 and 1,200 people. The whole idea is that you can't have something too big, but then on the other hand you shouldn't have something too small," said Pangman. Having both facilities, said Pangman, would ensure there is an entertainment venue while construction is under way.
The project that may take place in the Oakville Real Estate Downtown is still in very early stages.
"This is the very beginning of a process of engagement with the community, getting groups together to talk it out, getting them to think a little bit more about the bits and pieces that are important to make it work," said Pangman.
Burton said he hopes to have a widespread discussion in the Oakville community about possible upgrades to the area. Some parts of the buildings are 40 years old and require regular, expensive maintenance, Burton said.
But, at issue is more than just operational costs for this major Oakville Real Estate makeover.
"The facility was designed and built when we were 77,000 people and we're probably 100,000 more now. Many of the residents who use it, report it's not really adequate anymore. So it's time to start talking about, what do we do?" Burton asks.
"My number one goal is for us to have a community-based discussion on whether we need to do anything. If we need to do something, once we make that decision, then, it seems to me, a more extensive discussion has to happen about what, how and when."
The community group has already received support from architect Thomas Payne, who volunteered his time, to design a possible outcome for the revitalization project. Payne has worked on a number of high-profile projects, including Young Centre for the Performing Arts, the Royal Conservatory of Music, the Gardiner Museum, Canada's National Ballet School and the TIFF Bell Lightbox Theatre.
Pangman said the original discussion began a few years ago about trying to improve the Oakville Centre, but the project has since morphed into something grander.
"At this point in time, the vision is for something pretty magnificent," he said. Furthermore, the new arts hall would be more than a stage with seats; it would become accessible to art groups of varying media.
The arts are also just one piece of the puzzle.
"The idea is not only to create a cultural hub, but also to revitalize downtown with more density," Pangman said. "So there would be more living accommodation down there, and long awaited restaurants on the harbour. It's a combination of retail, some commercial, some residential and then the arts."
He added, this would be a high-end project, requiring major capital funding, that would have to come from a combination of private and public spending, including all levels of government.
"It will be world-class so it will attract world-class performances," he said. Pangman said there are such facilities around the GTA that have been built in the last few years, but Oakville has stayed behind.
"We've got all the different art forms in the community, but we really don't have the infrastructure to make it go even further," Pangman said.
Does Centennial Square need a makeover?. NEW LOOK: An artist's rendering shows how the existing Centennial Square could be revitalized by expanding to accommodate restaurants, commercial and residential components in addition to another theatre. Kuwabara Payne Mckenna Blumberg Architects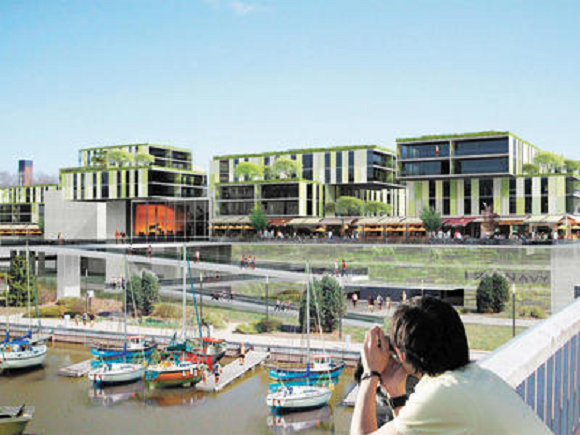 Source – Dominik Kurek, Oakville Beaver – insidehalton.com – article modified
18/05/2011 – Article was posted by Ryan Crane, who is an Oakville Real Estate agent that works throughout the GTA and specializes in the Milton, Mississauga, Burlington, and Oakville Real Estate markets. You can find him at www.oakvillerealestate4sale.ca
Oakville Real Estate Agents website provides complete details of all Oakville MLS Listings for Oakville Homes for Sale and Oakville Sold Prices.
Tags:
Oakville Homes
,
Oakville Real Estate
,
Oakville Real Estate Agent
,
Real Estate Outlook
Write a comment
Required fields are marked with *.