Blog // Oakville Real Estate - CH says now is the time to destroy Giant Hogweed

Conservation Halton is advising that if residents have giant hogweed on their property now may be the time to destroy it. Giant Hogweed is a noxious perennial plant that has been spotted growing in the Oakville Real Estate area mainly along Sixteen Mile Creek and in some of the town's parks and natural areas.
During the summer the invasive plant reaches heights of 2.5 to 4 metres, with leaves up to 1 metre in breadth. It has a thick, 5 to 10 cm hollow stem and large umbrella-shaped flowers that are white in colour and can be more than 30 cm in diameter.
By the summer giant hogweed may be too large to be dealt with safely as the plant produces a sap that can cause human skin to become painfully photosensitive.
Conservation Halton says right now, when the plants are just starting to grow, is the best time to try and control it, and prevent it from producing seeds.
If residents find such a plant on their property and are considering getting rid of it themselves, Conservation Halton says it is important to wear proper protective clothing (waterproof fabric with long sleeves, high shoes, gloves, face and eye protection), so as to avoid skin contact with the sap.
Residents with a small patch of giant hogweed can dig the plants up, but are advised to make sure the entire root is removed and to check the area again in two weeks for any re-growth.
Alternatively, residents with a large infestation will need to consider other control methods.
In some cases, a herbicide used according to the label, and by a certified professional, is the best method of controlling this plant.
Even if the plant was removed late last year, Conservation Halton says, there likely will still be seedlings sprouting this year.
To control an invasive species like giant hogweed, Oakville Real Estate residents must be vigilant and return to the site to ensure control has been effective.
With the heightened public attention given to giant hogweed last summer, Conservation Halton received numerous reports of giant hogweed that were actually a smaller, harmless plant that has a similar (but greatly smaller) white flower called Queen Anne's Lace.
Residents in the Oakville Real Estate region that are unsure whether they have giant hogweed are asked to contact Conservation Halton at 905-336-1158, ext. 282.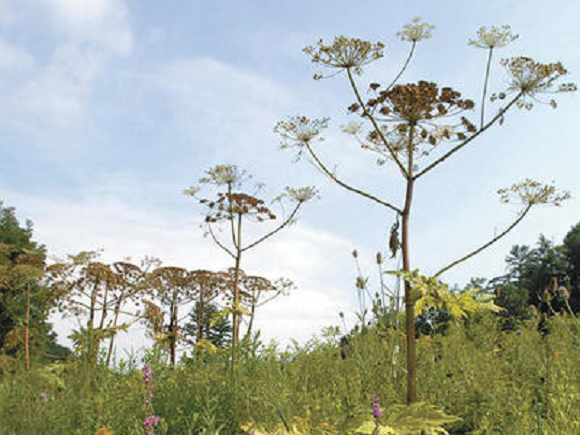 16/05/2011 – Article posted by Ryan Crane, an Oakville Real Estate agent who works throughout the GTA and specializes in the Burlington, Milton, Mississauga, and Oakville Real Estate markets. You can find him at www.oakvillerealestate4sale.ca
Oakville Real Estate Agent can help you find all the homes for sale in Oakville with true access to all MLS Listings for Oakville and the Oakville Sold Prices for Oakville Sold Properties.
Tags:
Oakville Homes
,
Oakville Real Estate
,
Oakville Real Estate Agent
,
Real Estate Outlook
Write a comment
Required fields are marked with *.