Blog // Oakville Real Estate and GTA Market Watch

The Oakville Real Estate market is off to a strong start so far in 2015 according to figures recently released by the Oakville, Milton and District Real Estate Board (OMDREB) The average price of a house in Oakville for January of 2015, was $808 105, which represents a 7.83 per cent increase over the average price of $749 456 that was reported in January of last year. The median price of an Oakville home rose 12.08 per cent over last year to $694 900.
135 homes in Oakville changed hands in January, which is pretty consistent with the activity we saw last January when there were 137 home sales. The average number of days it took for a home to sell in January was 30.
Toronto Real Estate Board President Paul Etherington announced a strong start to 2015, with robust year-over-year sales and average price growth in January. Greater Toronto Area REALTORS® reported 4,355 home sales through the TorontoMLS system during the first month of the year. This result represented a 6.1 per cent increase over January 2014. During the same period, new listings were up by 9.5 per cent.
"The January results represented good news on multiple fronts. First, strong sales growth suggests home buyers continue to see housing as a quality long-term investment, despite the recent period of economic uncertainty. Second, the fact that new listings grew at a faster pace than sales suggests that it has become easier for some people to find a home that meets their needs," said Mr. Etherington.
The average selling price for January 2015 home sales was up by 4.9 per cent year-over-year to $552,575. The MLS® Home Price Index (HPI) Composite benchmark was up by 7.5 percent compared to January 2014.
"Home price growth is forecast to continue in 2015. Lower borrowing costs will largely mitigate price growth this year, which means affordability will remain in check. The strongest rates of price growth will be experienced for low-rise home types, including singles, semis and town houses. However, robust end-user demand for condo apartments will result in above-inflation price growth in the high-rise segment as well," said Jason Mercer, TREB's Director of Market Analysis.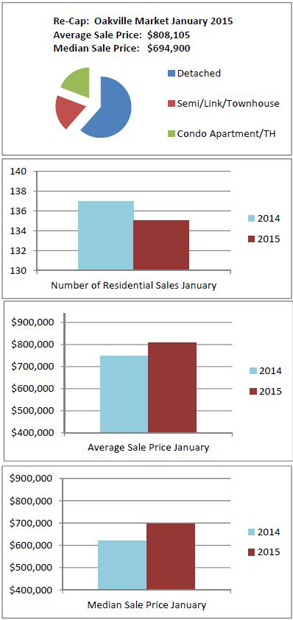 02/20/2015 – This article was posted by Oakville Real Estate agent Ryan Crane, who is an Oakville Realtor that specializes in the Mississauga, Burlington, Milton, and Oakville Real Estate markets. You can find him at www.oakvillerealestate4sale.ca
This Oakville Real Estate Agents website provides full access to all Oakville Homes for Sale and the Oakville MLS Listings including the sold prices for Oakville Sold Properties.
Tags:
Oakville Real Estate
,
Oakville Homes for Sale
,
Oakville Real Estate Agent
,
Oakville Real Estate Agents
Write a comment
Required fields are marked with *.