Blog // Oakville Real Estate and GTA Market Watch

Greater Toronto REALTORS® reported 10,046 sales in May 2011 – up six per cent compared to May 2010. This result was the second best on record for May under the current Toronto Real Estate Board service area. The number of new listings in May, at 16,076, was down 15 per cent compared to last year.
Oakville Real Estate agents reported the sales of 257 Oakville Homes last month, which was up 12.7% over April, and 40% above sales reported for the same month last year. While sales in the Oakville Real Estate market were up last month, there were only 519 Oakville Homes for Sale which was down 18.6% from May of 2010. The tight supply of Oakville homes for sale has led to more competition among buyers for homes that show well and are priced right.
"Positive economic news and low borrowing costs led to strong sales through the first five months of the year, including the increase in May," said Toronto Real Estate Board President Bill Johnston. "At the same time, the market has become much tighter compared to last year, due to a substantial dip in new listings."
Homes were on the market for an average of 23 days and sold for an average price of $485,520– up nine per cent compared to $446,593 in May 2010. The strongest rate of price growth was experienced for single-detached homes sold in the City of Toronto. The average price of an Oakville home that sold last month was $652 429, up just over 10% from the average of $592 059 reported in May of 2010.
"We have seen clear-cut seller's market conditions emerge over the past two to three months," explained Jason Mercer, TREB's Senior Manager of Market Analysis. "The robust price appreciation that we have seen will hopefully prompt more households to list, resulting in a more balanced market later this year," continued Mercer.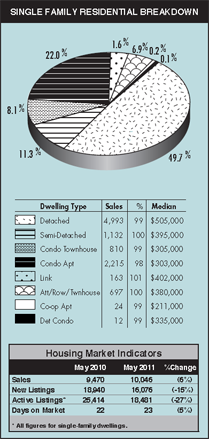 06/07/2011 –Article posted Oakville Real Estate agent Ryan Crane, who works throughout the GTA and specializes in the Milton, Mississauga, Burlington, and Oakville Real Estate markets.You can find him at www.oakvillerealestate4sale.ca
Oakville Real Estate Agents website provides full access to all of the Oakville MLS Listings for Oakville Homes for Sale including the Oakville Sold Prices.
Tags:
Oakville Homes
,
Oakville Real Estate
,
Oakville Homes for Sale
,
Oakville Real Estate Agent
Write a comment
Required fields are marked with *.